7 Reasons to Switch to uPVC windows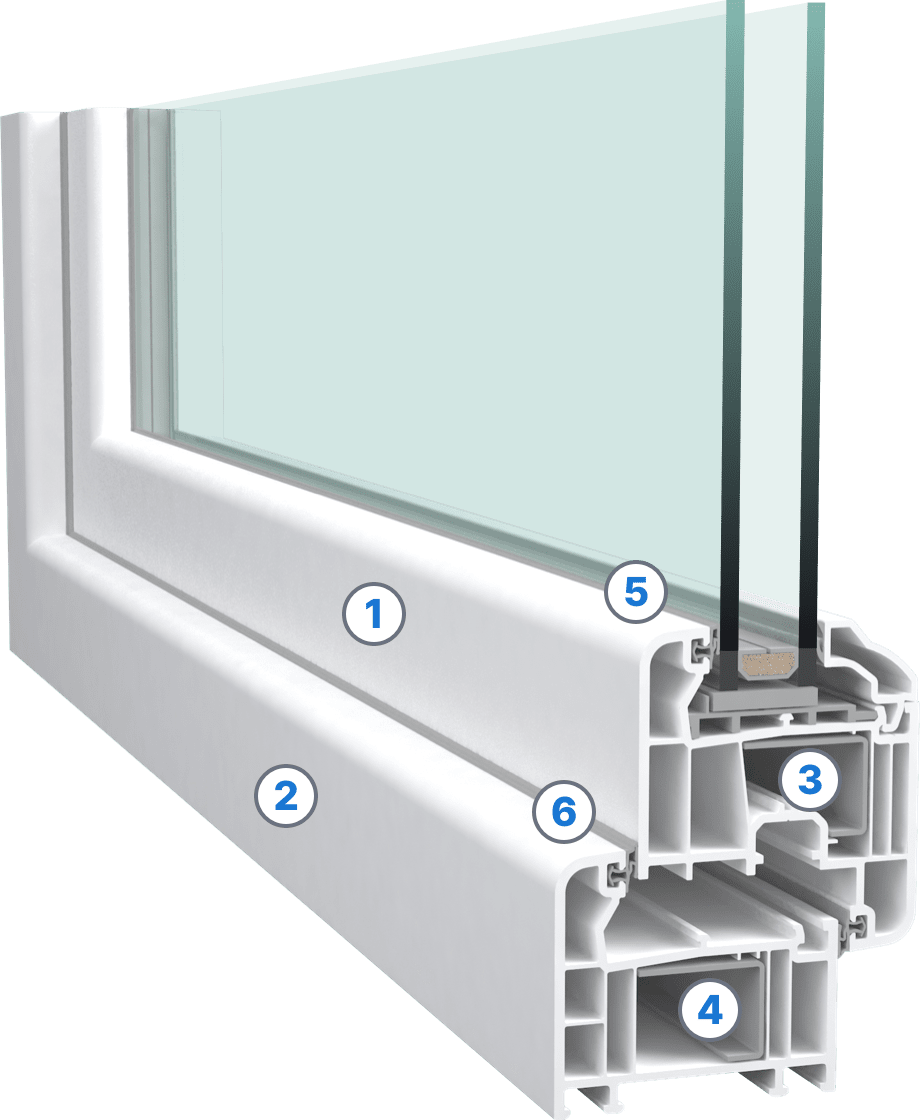 uPVC, or unplasticised polyvinyl chloride, is an incredibly versatile building material. You'll find uPVC everywhere, from drainpipes to doors, and especially in window frames.
But why would you choose
To answer that question, we first need to understand a little more about this adaptable material.
What are uPVC windows?
uPVC is a rigid building material that is relatively new on the scene. Invented shortly before WWII and popularised as a building material in the 1980s, uPVC is now a globally popular building material prized for its insulating properties, flexibility and durability.
In uPVC windows, the lightweight material is the frame for
7 reasons to switch to uPVC windows
1. Energy efficient
Because they create a highly effective seal, uPVC windows give your home a break from needing to constantly adjust the interior temperature.
2. Durable for years
Unlike aluminium which can rust, and timber which warps and cracks, uPVC windows can last for decades without needing to be replaced. 
They even stand up to Perth's hot sun, salty air and winter rains, plus uPVC resists corrosive chemicals. This reliability is what makes it such a popular building material. 
It's also why we can confidently offer a 25-year warranty on our uPVC window frames. 
3. Virtually no maintenance
uPVC windows are easy to clean and require almost no maintenance over their long life. 
If you notice your window frames getting dirty, simply wipe the surface with a damp cloth and a little dishwashing liquid. Good as new!
4. Better insulation
Double-glazed windows use an innovative air or argon gas "gap" to insulate your home against heat transfer, noise and UV rays.
Aluminium is a comparably poor insulator. Only uPVC double-glazed windows can boast a 70% noise reduction and 60% lower energy bills. 
5. Secure, strong and safe
We strategically reinforce our uPVC window frames with galvanised steel for added security around your home. 
Plus, a multi-point locking system (standard on all ARCO double-glazed doors and windows) adds even more security to keep your safe as houses.
6. Eco-friendly
uPVC is a 100% recyclable product; most of the uPVC in ARCO double-glazed window frames is reclaimed.
Because uPVC windows can be re-used time and time again without losing any strength or durability, the environmental impact is much lower than smelting aluminium.
7. Versatile designs
In the early days of uPVC, the only finish option was a rather unattractive white plasticky coating. But today, you can choose from a wide range of colours, textures, frame styles and glass coatings on uPVC double-glazed windows.
We have hundreds of possibilities for your new uPVC windows, from the opening style to the frame, finish, and glass coating.
Where to find Perth's best uPVC windows and doors
If you're looking for a high-performing, low-cost, and no-maintenance solution to upgrading your old doors and windows, look no further than uPVC windows from ARCO Double Glazing.
Get an
Get a free online quote
Use our simple online calculator to receive an instant estimation for your project.